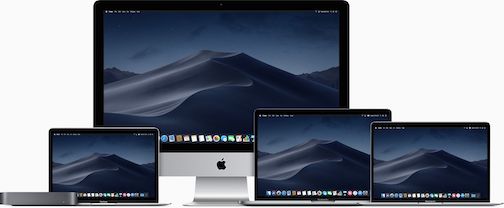 Why you'll love a Mac (as much as we do) - Visit our store to discover why. Our friendly and knowledgeable staff can answer any Mac questions. We will help you finding a right Mac, new or used, for your home or business. While our store is celebrating 29th year, MacSensei store has been rated #1 best Mac service store in Delaware Valley area (PA, DEL, NJ) according to a reputable consumer report publication year after year.

Our store does not look like Apple Store but customers love our store. With ambient music playing in the store, you will feel at ease. It is perfect for customers to relax who just had their Mac in trouble while MacSensei is doing his magic. We carry many accessories and upgrades. One stop store for Mac, a true Mac store, an insanely Mac committed company…And, no appointment necessary for technical support.
Click for Map.
Which Mac to get? We will help you choose the right one. Trade-ins are welcome too.
iMac
- The vision is brighter than ever.

iMac Pro
- Power to the pro.

MacBook Pro
with Touch Bar and ID - A touch of genius.

MacBook Air
- Make big things happen. All day long.

MacBook
- Light. Years ahead.

Mac mini
- It's mini in a massive way.

Call us now at 610-734-2222.
Click here to find current promos for Macs
MacSensei store moved to new location in January 2018. But not far, still in Drexel Hill. Our new store is located in Township Line Shopping Center at the intersection of Township Line (Rt. 1) and Burmont Roads. Please check it out!
Click for Map.
Now, we help Windows users (to switch to Mac?)
- by our PC staff from #1 rated store (formerly Computer Renaissance) by a reputable consumer report publication. Combined, our store is the best of best computer stores in Delaware Valley, for both PC and Mac.




Authorized Service Provider

Combination of Apple Store and PC Store - I'm a Mac and I'm a PC. Providing customers with both computing worlds. Since 1990, we have been serving our neighbors in Delaware Valley for all kinds of Mac and PC - Philadelphia, Springfield, Ardmore, Bala Cynwood, Broomall, Bryn Mawr, Chester, Clifton Heights, Drexel Hill, Gladwyn, Glenolden, Haverford, Havertown, Lansdowne, Narberth, Rosemont, Swarthmore, Upper Darby, West Chester, Wynnewood, Yeadon, PA and more.